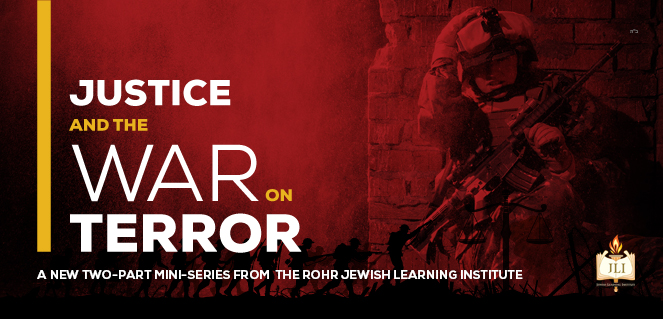 Moshe House & the Jewish Learning Center Present a most timely course Justice & the War on Terror.
TUESDAY, November 24, 2015 / 7:30p.m
The Jewish Learning Center
10213 N. Scottsdale Rd.(next to Mazel Tov Gifts)
480-998-1410 learningjewish@gmail.com
A class for Young Professionals in their 20s and 30s.
CLE accredited for attorneys
$10 suggested donation



Negotiating with Terror
In 2011, Israel set 1,027 prisoners free in exchange for the release of Gilad Shalit. More recently, the rise of ISIS and the murders of James Foley and Steven Sutloff and others have forced us to revisit this heart wrenching debate: Should we pay hefty ransoms or release dangerous criminals in exchange for the life and freedom of an innocent hostage?
Torturing to Save Lives
The recent "Torture Report" alleges that the brutal interrogation techniques used by the CIA in the aftermath of 9/11 were ineffective. But what if they did yield valuable information—would they have been justified? While the evils of terror must be combated, human rights must also be protected. How are we to balance these competing values?