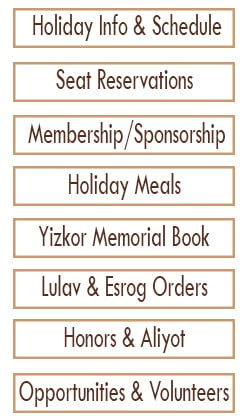 HIGH HOLIDAY SCHEDULE
All services at Chabad of Scottsdale,
10215 N. Scottsdale Road
  Selichot Services
Saturday night/Sunday morning September 1st - midnight.

September 3, 4, 5, 6 & 7th- 45 minutes prior to morning services
Erev Rosh Hashanah (Sunday Morning, September 9)
Selichot services - 7:15 am

Shacharis 8:00 am

Nullifying the vows – 8:35 am - 9:10 am

 
Rosh Hashanah (September 9-11)
Sunday evening - 6:15 pm

Monday morning - 9:30 am - Shofar

12:30 pm

- Tashlich 5:45 pm

Monday evening – 7:15 pm

Tuesday morning - 9:30 am - Shofar

12:00 pm

Tuesday evening – 6

:00 pm (Followed by Seder Nigunim)
Fast of the Gedaliah (Wednesday, September 12 )
Morning services - 6

:45 am

Evening services - 6:00 

pm

Fast ends at 

7:04 pm

 

Yom Kippur (September 18-19)
Tuesday Mincha Services - 2:00 pm

Tuesday Evening - 6:15

 pm (Kol Nidre)

Fast Begins - 6:12 pm

 
Wednesday morning -

9:30 am

 (Yizkor around

12:30

) 

Mincha/Neilah - 5:00 pm

Fast ends 7:05 

pm
Sukkot (September 23-25)
Sunday evening - 6:00 pm

Monday morning - 9:30 am

Monday evening - 6:00 pm

Tuesday morning - 9:30 am

Tuesday evening - 5:50 pm
Hoshana Rabba (September 30)
Saturday Night - reading of the book of Psalms at midnight followed by traditional apples and honey

Sunday Morning - 8:00 am  - Circling the Bima 7 times with the willow branches 
Shemini Atzeres and Simchas Torah (September 30 - October 2)
Sunday evening - Israeli Hakafot 6:00 pm (amazing children's program!)

Monday morning -

9:30 am - 

Yizkor

11:30 am - Followed by Yizkor Kiddush




Monday evening - Grand Hakafot 6:45 pm

Tuesday morning -

9:30 am -

Children's Aliyah & Hakafot (approx 12 noon)

Tuesday evening - 5:30 pm - Services and Seder Nigunim
CLICK HERE FOR A PRINTER FRIENDLY VERSION OF THE SCHEDULE

HOTEL INFORMATION
We have arranged a special rate at the HOLIDAY INN right next door to Chabad.
For hotel booking for Yom Kippur, please ask the hotel for the special Chabad rate.
Click Here to make reservations or call 480.596.6559.
If you would like to make a Holiday Donation please Click Here .